Cherry Blossom Specials + Events
March 13, 2023 @ 1:00pm
A roundup of events, food, drink, + hotel specials to celebrate cherry blossom season in D.C.
---
Cherry blossom season is fast approaching thanks to D.C.'s confusing weather. It's been an unusually warm winter, which could be the cause of early blooms. The blooming process lasts several weeks, but peak bloom is predicted sometime between March 15 and March 29. The iconic cherry trees were gifted by the mayor of Tokyo in 1912, and have since become a staple for spring tourism in the district. Yet, tourists and locals alike love to witness the beautiful blossoms and celebrate the arrival of spring. There are plenty of opportunities to get your cherry blossom fix throughout the months of March and April. Welcome the warm weather with some of these cherry blossom-themed specials and events. Note: Most descriptions courtesy of event hosts and edited for clarity. We'll be updating this piece as more specials and events are announced. 
Events
Through 4.31
Cherry Blossom Art Installation by Heather Cooper
Conrad DC is partnering with D.C.-based artist Heather Cooper, former Resident Artist, and Designer for The Executive Residence of The White House for 18 years, for a one-of-a-kind art installation of 4,000 silk flowers. The design is inspired by the view from Conrad DC's rooftop and the flowers will outline the silhouette of the Washington Monument and the Capitol Building. The installation consists of white and gray flowers flowing into a sea of light and dark pink flowers representing the blooming cherry trees. Conrad DC, 950 New York Ave. NW, DC; conradwashingtondc.com // @conradwashingtondc 
View this post on Instagram
3.30
The Van Gogh Immersive Experience
Celebrate Van Gogh's birthday with the 20,000 sq. ft. two-story projections of Van Gough's artwork, including many that are Japanese-inspired. Large blossom branches against a blue sky were one of Van Gough's favorite subjects; watch the artist's Almond Blossom piece come to life in a 360-degree projection, revealing his colorful painting strokes beneath the blooms. In honor of the artist's great love for Japanese art and culture, the exhibition offers Japanese Flower tea. Sip on authentic tea flowers to rediscover green tea, and a journey between flavor, smell and color. 524 Rhode Island Ave NE, DC; vangoghexpo.com // @vangogh.experience
3.31
Paws & Petals Yappy Hour
Join the National Cherry Blossom Festival for the Paws & Petals Yappy Hour at the Embassy Suites by Hilton Washington DC Convention Center on March 31 from 5:30 – 7:30 PM EST! Wrap up your work week with your friend and enjoy food, drinks & pet-friendly activities!
Guests and the public are invited to the Embassy Suites by Hilton Washington D.C. Along with happy hour specials, guests will have the opportunity to sign up for a very special doggie swim at the property's on-site pool. 900 10th St. NW, DC; eventbrite.com // @embassysuitesdc
4.1 – 4.2
Art Blooms at Mosaic
As cherry blossoms burst into bloom, Mosaic District welcomes Spring with a two-day festival: Art Blooms at Mosaic. Visitors and surrounding communities are invited to a weekend of fun-filled activities for the whole family while taking part in the DMV's favorite springtime celebration. Mosaic District will transform into a vibrant outdoor festival with over 90 handmade and vintage vendors, special performances, and an array of activities for the entire family. Live entertainment throughout the festival, various kids' activities and a cherry blossom Arts and Crafts corner promises a fun-filled weekend for all. Mosaic District Ave. Fairfax, VA; mosaicdistrict.com // @mosaicdistrict
4.1
Bloomaroo at the Wharf
Celebrate Spring at the Home of the Cherry Blossoms. Visit The Wharf on Saturday, April 1, from 2:00 p.m. to 9:00 p.m. for Bloomaroo, a free spring extravaganza featuring a full day of cherry blossom-themed art, music, fireworks, and family-friendly fun along the waterfront! Enjoy cherry blossom beer gardens on District Pier, s'mores at our firepit, and live music. We'll cap it all off with our blossom fireworks finale. 101 District Square SW, DC; wharfdc.com // @thewharfdc
4.1
Pink In The Park
Celebrate the arrival of cherry blossom season with an unforgettable festival hosted by Orlando Jones, featuring musical guests DJ Chan Don, Crush Funk Brass, Umami House, Reesa Renee, Footwerk, and headliner Black Alley. Enjoy a beer & wine garden, food trucks, giveaways and all things pink. 3:00 p.m. – 7:00 p.m. 333 Long Bridge Drive, Arlington, VA; nationallanding.org // @nationallanding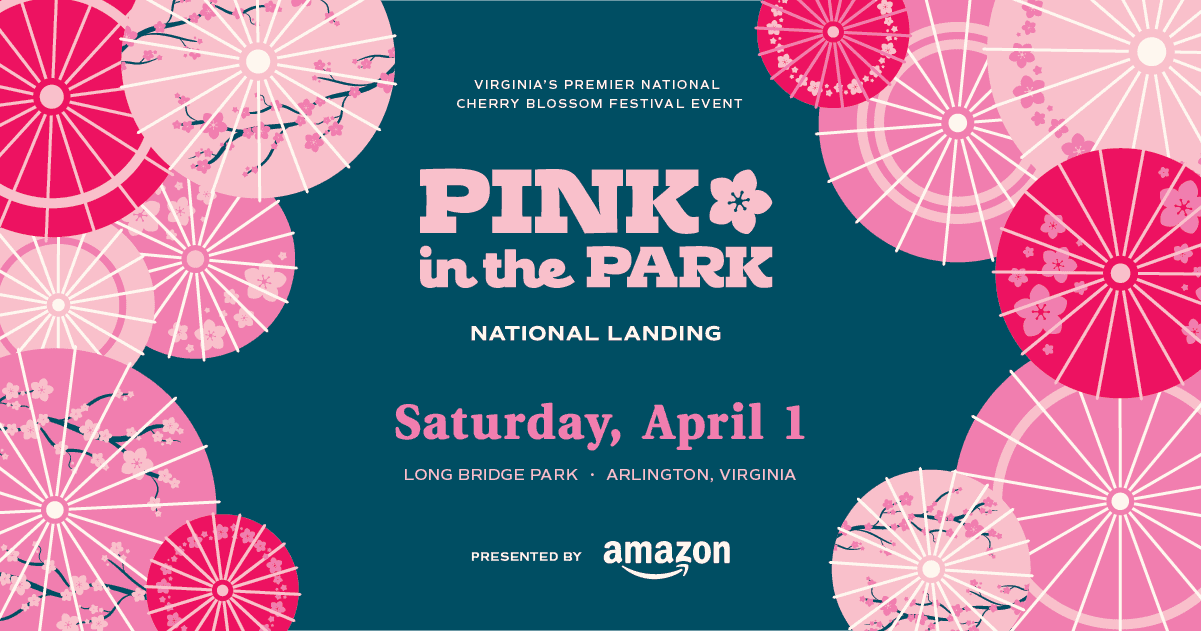 Cherry Blossom Garden Soiree
Salamander DC is an urban oasis with sweeping views of the nation's most cherished monuments and home to stunning cherry blossom trees located on the perimeter of our Grand Lawn. This spring, guests are invited to enjoy a Cherry Blossom Soiree on the tranquil Garden Terrace and Grand Lawn, featuring a rose-tasting experience with partner Chateau d'Esclans. 1330 Maryland Ave. SW, DC; salamanderdc.com // @salamanderhoteldc
NoMa in Bloom Festival
Celebrate the arrival of spring in the District at the 2nd annual NoMa in Bloom Festival on Saturday, April 1, 2023, from 11 a.m. – 3 p.m. at Alethia Tanner Park. This official National Cherry Blossom Festival event will include kite making and flying, live music, an artisan market curated by Neighbors DC, a live chalk drawing by Chalk Riot, delicious food for purchase by food trucks, and more! Event is free. 227 Harry Thomas Way NE, DC; nomabid.org // @noma.bid 
Eat
Coconut & Cherry Blossom Kulfi
Bindaas, will offer a cherry blossom-inspired dessert to commemorate the anniversary of the National Cherry Blossom Festival. The Coconut & Cherry Blossom Kulfi with cherry compote, sweet saffron noodles, and basil seeds, is priced at $12. 3309 Connecticut Ave. NW, DC; 2000 Pennsylvania Ave. NW, DC; bindaasdc.com // @bindaasdc
Cherry Blossom Tart
Sababa, located in the heart of Cleveland Park at, will offer a Cherry Blossom Tart with white sesame crust, which is priced at $12, during this year's festival. 3311 Connecticut Ave. NW, DC; sababauptown.com // @sababadc
3.20 
Miss-en-Place Cherry Blossom Dinner
Celebrate the Cherry Blossom season with a four-course dinner curated by Ria Montes, Chef de Cuisine at Estuary, and Masako Morishita, Executive Chef of Perry's Washington D.C. Enjoy dinner served in the private Blue Willow Room featuring fresh seasonal ingredients. Each dish is paired with sake hand chosen by Reiko Hirai of DC Sake Co. Cocktails begin at 6 p.m. followed by dinner at 7 p.m. Tickets are $125 per person. Estuary, 950 New York Avenue NW, DC; estuarydc.com // @estuaryconraddc
3.25
Cherry Bakewell Shortbread
Located within the property's Next Whisky Bar terrace, the Shortbread Society pop-up will provide DC residents and guests at The Watergate the opportunity to purchase its signature Cherry Bakewell Shortbread on Saturday, March 25th from 11:00 am – 4:00 pm. In addition to purchasing boxes of shortbread, The Next Whisky Bar's head mixologist Kal Lemma is preparing a limited signature cocktail featuring the Cherry Bakewell, to be available exclusively during this time period. 2650 Virginia Ave. NW, DC; thewatergatehotel.com // @nextwhiskybar
Drink
Cherry Blossom-Inspired Cocktail & Dessert at Ambar
Ambar, the nation's capital's first Balkan restaurant, its sister restaurant, Ambar Clarendon, and the newly opened Ambar Shaw, will offer a cherry blossom-inspired cocktail to commemorate the anniversary of the National Cherry Blossom Festival. The Shumadija Iced Tea, cherry-infused rakia, bourbon, house-made cherry purée, fresh lemon juice, and a berry-mint tea blend, is priced at $14. Each of the Ambar locations will also showcase a special dessert, the Svarcvald (Black Forrest) Cake, dark chocolate layers with a whipped cream frosting, and cherry filling, which is priced at $11. Additionally, to help get diners into the festival spirit, Ambar Capitol Hill, Ambar Clarendon, and Ambar Shaw will enhance their dining spaces with an eye-popping collection of cherry blossom décor. 523 8th St. SE, DC; 2901 Wilson Blvd. Arlington, VA; 1547 7th St. NW, DC; ambarrestaurant.com // @ambar_restaurants
View this post on Instagram
Cherry Blossom "High Tea" at Art and Soul
Cherry Blossom themed "High Tea" at Art and Soul. An artful experience at Art and Soul includes various CBD infused tea blends along with sparkling champagne and rose and the Cherry Blossom themed signature cocktail, Sakura in the City ($17). Small tea sandwiches and sweets also include Cherry cured salmon, smoked beets with cherry jam, cherry cheesecake and more. The offer is available 3 p.m. – 5 p.m. Friday through Sunday. 415 New Jersey Ave. NW, DC; artandsouldc.com // @artandsouldc
Cherry Blossom Spritz at Blue Duck Tavern
Park Hyatt Washington, D.C. will offer a cherry blossom-inspired drink, the Cherry Blossom Spritz, which will be available in Blue Duck Tavern and Blue Duck Lounge for the duration of the National Cherry Blossom Festival and the remainder of the month of April. Created with Cappelletti Vino Aperitvo Rosso, Mancino Cherry Blossom Vermouth, and Cherry Bitters, this taste of spring in a glass is priced at $18. 1201 24 St. NW, DC; blueducktavern.com // @blueducktavern
Cherry Blossom Cocktail at Bresca
Bar Director, Will Patton is showing off his creativity this Cherry Blossom season at MICHELIN- Starred, Bresca, with his cocktail "La Parisienne Mexique." It is made with Mijenta Blanco, Shochu, Blood Orange, Sakura, and Lemon– a reference to a painting by Alfred Stevens called La Parisienne Japonaise – the name edited on for the drink because of the inclusion of tequila. 1906 14th St. NW, DC; brescadc.com // @brescadc
Cherry Blossom Installation at Ciel Social Club
Forget the vagaries of the weather. Why brave the crowds mobbing the Tidal Basin? Instead, this month, journey to Japan and settle in for blossoms, cocktails and views in luxe surrounds at Ciel Social Club as it celebrates all things cherry blossom with an elegant, immersive installation of fluffy pink blooms, a Japanese-inspired menu and innovative cocktails whose flavors evoke the delicate sakura itself. 601 K St. NW, DC; cielsocialclub.com // @cielsocialclub 
Cherry Blossom-Inspired Beer at Crooked Run
Crooked Run locations will be offering a "Cherish" beer, a Berliner Weisse with cherries, white chocolate, and vanilla. This sweet, tart wheat ale has big blocks of premium white chocolate melted into the boil and is conditioned with cherries and Mexican vanilla. 550 Morse St. NE Suite #120, DC; crookedrunfermentation.com // @crookedrunfermentation
Japanese 75 Cocktail at Estuary
In celebration of the Cherry Blossom Festival, Estuary is offering the Japanese 75 Cocktail featuring Cherry blossom syrup (made with Cherry Blossom green tea), Nikka Coffey Gin, fresh lemon juice, cherry hearing liquor, and is topped with Naveran Brut Nature cava. 950 New York Ave. NE, DC; estuarydc.com // @estuaryconraddc
Early Bloom Frozen Daiquiri at Las Gemlas
The beloved taqueria at La Cosecha is gearing up for warmer weather and Cherry Blossom season with their new "Early Bloom Frozen Daiquiri." The refreshing frozen drink includes Rum, Maraschino, Rose Blossom Cordial, Lime, and Grapefruit, and will be available now throughout the Cherry Blossom season! 1280 4th St. NE, DC; lasgemelasdc.com // @lasgemelasdc
Cherry Blossom Terrace & Floral Cocktails at Wilson Hardware
If you want to skip the crowds at peak bloom and celebrate Cherry Blossom season with floral cocktails instead, Wilson Hardware's got you covered. Their garden terrace is the perfect spot to celebrate the season with a refreshing drink in hand. Try one of their signature cocktails like the "Garden Spritz" ($13), the "Rosé Margarita" ($12), or the "Screw Him" cocktail ($13) while relaxing under a canopy of Cherry Blossom-inspired buds. 2915 Wilson Blvd. Arlington, VA; wilsonhardwareva.com // @wilsonhardwareva
3.20 – 4.30
Cherry Blossom Cake & Cocktails at Immigrant Food
All of Immigrant Food's DC locations are celebrating DC's world-famous annual bloom! All locations will feature their new "Cherry Blossom Trifle," which is a cherry and pomegranate trifle with genoise sponge cake, fresh raspberries, sour cherries, pomegranate ganache, cookie crumble, white chocolate topped with house-made chantilly cream. The Planet Word location will also roll out a new line of cocktails including the Ube Manhattan and The Cloud. Both Immigrant Food at Planet Word & White House will also have a selection of non-alcoholic cocktails, like the Sakura Tonic and Okinawa Colada. 925 13th St. NW, DC; immigrantfood.com // @immigrantfood
3.21 – 4.11
Sake and Whisky Tasting at Embassy Suites DC
Celebrating Japanese culture and the Sakura season, the hotel is offering a weekly sake and whisky tasting every Tuesday from 5:30 p.m. – 7:30 p.m. in the lobby. Guests can delight their taste buds with a variety of Asian-inspired chef stations featuring an assortment of gyoza and other small bites. Embassy Suites DC, 900 10th St. NW, DC; hilton.com // @embassysuitesdc
3.24 – 4.16
Cherry Blossom Afternoon Tea Service at Salamander DC
Enjoy a refined and renewing experience with the signature Cherry Blossom-Inspired Afternoon Tea overlooking the Garden Terrace, with culinary delights curated by guest Celebrity Pastry Chef Lasheeda Perry. Featuring a glass of celebratory bubbles, homemade scones, tea sandwiches, and pastries served with a selection of premium loose-leaf teas. Seatings available daily at 1:30 p.m. and 3:30 p.m. from Friday, March 24th – Sunday, April 16th. 1330 Maryland Ave. SW, DC; salamanderdc.com // @salamanderhoteldc
3.27-4.1
Silver Lyan x Katana Kitten Cherry Blossom Pop Up
After last year's successful weekend pop-up, this year's event will run for a full week. Guests may reserve a Hanami Picnic Experience, which includes a bento-style box for two featuring a mix of sweet and savory snacks, plus cocktails like the Cherry Blossom Spritzer. Drinks specials also include the Hibachi Highball featuring Toki whiskey, white miso, chrysanthemum soda and onion volcano bitters and the Mochi Martinez made with Roku gin, matcha blanc, almond, sushi rice and cedar. 900 F St NW, DC; silverlyan.com // @silverlyan
Stays
The Darcy Hotel Cherry Blossom Package
Enjoy an overnight stay in a one bedroom suite, breakfast for two at Gerrard Street Kitchen, and two cherry blossom themed welcome cocktails. Rates start at $399/night. 1515 Rhode Island Ave. NW, DC; thedarcyhotel.com // @thedarcyhotel
Hotel Zena Cherry Blossom Package
"Suiten" your springtime getaway for cherry blossom season with Hotel Zena's special package which includes: overnight accommodations in their Gia Suite; three-course Cherry Blossom dinner for two served in-room; and a bottle of Japanese whiskey. Guests and locals can also opt to create their own experience a la carte with Figleaf's Blossom Celebration three-course meal. For $49/person patrons can enjoy menu items including watercress salad with cherry tulle, Togarashi Seared Duck Breast and Cherry Blossom Jubilee with sweet saki-cherry sauce. Guests can also enjoy a Japanese whiskey flight for $44 per person. 1155 14th St. NW, DC; viceroyhotelsandresorts.com/zena // @hotelzena
Viceroy Washington DC Cherry Blossom Package
Viceroy Washington DC has transformed its salon into a tea salon where guests can create their own personalized tea blends including cherry blossom, sencha, matcha and genmaicha. Meanwhile, at the hotel's signature restaurant, Dovetail, guests can indulge in a themed menu including cocktails like Sakura G&T with pink peppercorn infused Roku Gin; the Japanese Paloma; Hanamizake with sake, Singani 63, Italicus bergamot liquor, berry blossom white tea, lemon and rose float; or the Umami Manhattan with shitake infused Toki Whiskey. Stand-out dishes include Zarusoba with a cherry blossom tare, Matcha Tiramisu with a cherry sauce, and Cherry Gelato paired with a pistachio cake. Viceroy Washington DC, 1430 Rhode Island Ave. NW, DC; viceroyhotelsandresorts.com/washington-dc // @viceroydc
The Watergate Hotel Cherry Blossom Package
The iconic Watergate Hotel is offering various stay packages for guests and locals wanting a change of scenery this season. With three rooms pacakges, a speciality cocktail and Cherry themed afternoon tea, the hotel has something for local staycations, couples and families to enjoy. 2650 Virginia Ave. NW, DC; thewatergatehotel.com // @watergatehotel
View this post on Instagram
3.24 – 4.16
Salamander DC Cherry Blossom Views
Experience the best of what springtime has to offer in the new heart of Washington, D.C. Nestled between The National Mall and The Wharf DC, Salamander DC is a short walk from the nation's most cherished monuments. Enjoy the splendor of the city's famed cherry blossom trees, blooming annually along the Tidal Basin and in our majestic Garden Terrace. This exclusive offer includes accommodations with beautiful views of the Tidal Basin, and a cherry blossom-inspired Afternoon Tea service for two in the privacy and comfort of your guest room or suite. 1330 Maryland Ave. SW, DC; salamanderdc.com // @salamanderhoteldc
Enjoy this piece? Consider becoming a member for access to our premium digital content. Support local journalism and start your membership today.