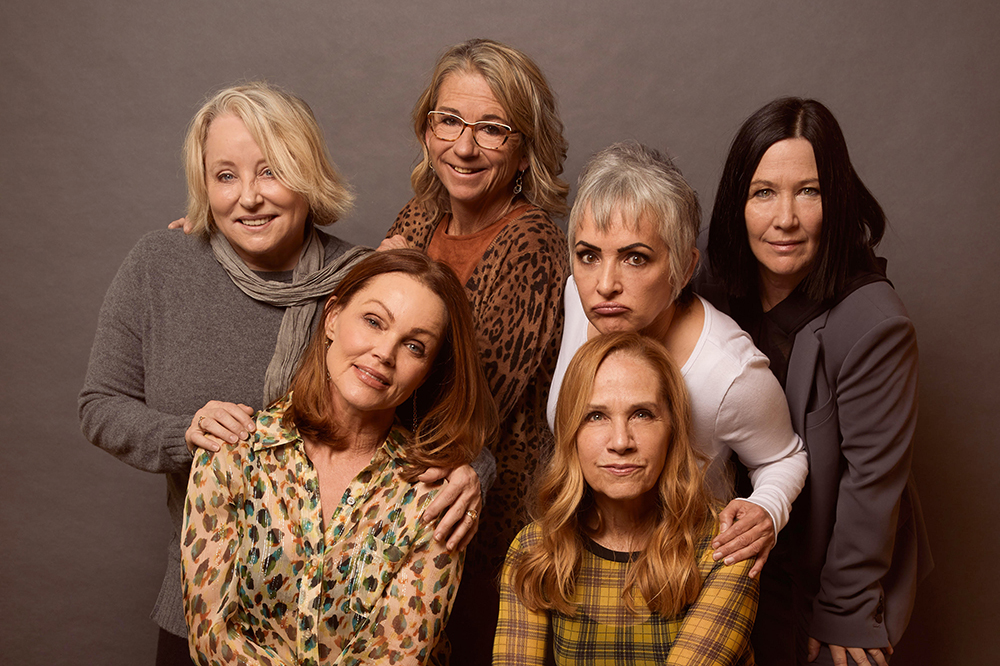 Punk Legends The Go-Go's Talk Four Decades of Sisterhood, Resilience + Zero Fucks Given
March 12, 2021 @ 10:00am
I'm not sure there's anything more punk rock than unintentionally becoming the first and only all-women band ever to write their own songs and play their own instruments on a No. 1 album. 
"We just happened to be five girls in a band together," says The Go-Go's drummer Gina Schock. "Jane, how about you? Did you even think about it? Because I didn't." 
"I didn't think about it either," replies the band's rhythm guitarist Jane Wiedlin. "I think that is because we started in the punk scene, and the main thing about the punk scene is all the old rules are dead. Everyone can do what they want and everyone can be who they are, which for us was gender." 
As I chat with Wiedlin and Schock one afternoon in late February, I feel like I've been given 30 minutes in the inner circle of this iconic rock 'n' roll sisterhood. The musicians speak with a candor and closeness that only two people who've collaborated for 40 years can have. In that short span of time, I'm privy to their inside jokes about bandmates having brief but "elicit" romances and their insight into why they've succeeded as a band – and how they do not envy women breaking into the industry today. 
And even though this level of intimacy is a dream for a music nerd like me, I kind of felt like I already knew them. Six months ago, I curled up on the couch with my family and watched their 2020 documentary, "The Go-Go's," which has since won the 2020 Critics Choice Award for Best Music Documentary. 
The film chronicles the band's punk rock roots, multiple iterations of lineups in the early years, commercial success in the early '80s with their albums "Beauty and the Beat" (1981), "Vacation" (1982) and "Talk Show" (1984), and more. It's also full of more vulnerable moments, like how the band stuck together over the years, especially when their live sound remained raw while their recorded sound became more polished and pop-infused. 
There are plenty of short stories for pop culture geeks, too – chief among them, the band's first international tour with ska icons The Specials and Madness, where UK audiences were less than pleased to see a stage full of young female musicians and reacted aggressively, and sometimes violently. 
It should come as no surprise that the band remained unfazed, and had already built such a tight-knit bond with their touring mates that no one in the audience could really fuck with them.
Wiedlin was dubious of the documentary at first, and it wasn't until she watched it with a full audience at Sundance Film Festival that her mind was changed.
"I didn't have that crazy reaction until I saw it with other people," she says, "and I realized it was something really special, really truthful. So much of what's in that documentary, almost no one knew about."
Schock steps in to finish her bandmate's thought, noting how emotional the audience was. 
"That was something to experience," she says, "to think you have meant that much to people, and now you get to see an insider view of it."
Wiedlin adds, "The reaction reminded me of the '80s when girls would come see us and cry and scream, and it would almost feel like Beatlemania or something. I mean, it was really off the hook. I forgot about that because it's been so long. So, when it was happening at Sundance, and it was grown women in their 40s and 50s, I was like, 'Wow, we still are making an impact.'"
The documentary isn't the only way the band has remained relevant four decades into their career. While best known for hits like "Our Lips Are Sealed," "We Got The Beat" and "Vacation" from their early days, they also recorded the album "God Bless the Go-Go's" in 2001, with a 20th anniversary edition available on May 14. 
The band released their first song in 19 years last summer, "Club Zero." An ode to not putting up with "this whole boys' club anymore," according to Wiedlin, the song includes timely lyrics like: "Fair's fair, don't care / They may have control / But we're not scared / Zero fucks given."
And now, in 2021, The Go-Go's have been nominated for the Rock & Roll Hall of Fame. This felt a little shocking to me, given their iconic status both in punk rock history and in the world of female rock 'n' rollers who've paved the way. But then again, it's often the bands who remain authentic and don't worry about accolades who are recognized later in their careers than they should be. 
"We didn't really have a strong consciousness about it at the time," Wiedlin says, reflecting on their current status as the only all-female band to play every instrument and write every song. "I think it was only in hindsight that we started going, 'Wow, it's crazy what we did.' And the more time goes on, the crazier it is, because no one's done it since." 
The Go-Go's are scrappy, and I get the sense speaking with Wiedlin and Schock that this has not changed one bit over the years. 
"Being part of the whole punk scene, we were fighters," Schock says of their struggle to get a record deal at the beginning of the band's career. "We were ready for anything. When we were getting rejected by all the record labels, we were just like, 'Screw you. We're going to keep doing this. And you know what? Somebody is going to catch on to this. Somebody's going to want to sign us.' But we never thought about giving up. We just didn't. It wasn't an option for us." 
Wiedlin notes that right before they got signed, her dad sat her down and said, "We're really proud of you for following your dreams but you've been working on this for three years and you've gotten nowhere, so I think it's time to get a real job." 
Naturally, she ignored him. 
"Jane, you are part of the girl gang," Schock teases. "You would have never been let out. You would be murdered before you'd be let out of the gang."
The friends chuckle, and I ask the question I've been wanting to ask all along: How is it they've stayed together for 40 years, and are still tight? What magic chemistry do they have to keep their lineup, and their desire to collaborate, intact? 
"There are almost no bands who have stayed together as long as we have," Wiedlin notes, "even though our fighting was legendary. [It's] really cliché, but there's this idea that women are more in touch with their emotions. Maybe that worked to our advantage, even though it was painful at the time, because we were able to express things and get more off of our chests. When you're together this long, you can't help but start understanding how important and unique each member of the band is, and what they bring to the band." 
Schock describes the band as a family, crediting their resilience and improved communication over the years with their ability to remain rock solid. 
"The key is communication," she says, "and perhaps the fact that we are women, and we are more emotional about things. We fight hard, but we make up just as hard." 
Wiedlin adds, "Other than our blood relatives, there's no longer relationship any of us have had than the band." 
When asked what advice they'd give to young women in the music industry trying to find their footing, Wiedlin says to set your sights beyond just being a female singer who has "a factory of people writing your songs and a factory of musicians recording your music."
"We all feel it is way more fulfilling when you can actually play an instrument and express yourself by writing your own songs," she says. "The amount of control other people seem to exert over girls' and women's musical careers is really intense. For us, having had all control [and] never getting pressured by anyone to do anything, it's kind of hard to see that – especially because it's been almost 40 years since we got successful."
Schock is quick to reply, saying, "The thing to remember, Jane, is there were five of us. We could rely on each other. When you're an artist, not a band, coming up through the ranks, it is a lot more difficult. We did have that advantage of being able to rely on each other and get strength from each other. You better have the best team around you who isn't going to screw you. Follow your instinct, man. Follow your gut." 
While I'm pining for the days when The Go-Go's will grace D.C. venues once again (Ed. Note: Both Wiedlin and Schock say the 9:30 Club is one of the few venues nationally they always remember with great fondness, including a visceral memory of how quickly our city's alley rats can devour a whole pizza), there's lots of ways to stay connected to this band of bad-asses in the meantime.
Vote for their spot in the 2021 Rock & Roll Hall of Fame at http://vote.rockhall.com, watch "The Go-Go's" documentary via two-disc set or download and streaming services, check out the official video for "Club Zero" at www.thegogos.lnk.to/clubzerovideo, and stay tuned for the 20th anniversary edition of "God Bless the Go-Go's" on May 14. 
And keep your eyes peeled this October for Shock's upcoming book "Made in Hollywood," a collection of photos taken by the drummer over the years of The Go-Go's "totally being themselves backstage, on the bus, having adventures, pulling pranks on anyone and everyone," Wiedlin gushes of her bandmate's project.
Learn more about The Go-Go's at www.gogos.com. Follow them on Instagram @officialgogos, and follow Wiedlin and Schock on Instagram @janewiedlin and @realginaschock, respectively. 
Enjoy this piece? Consider becoming a member for access to our premium digital content. Support local journalism and start your membership today.