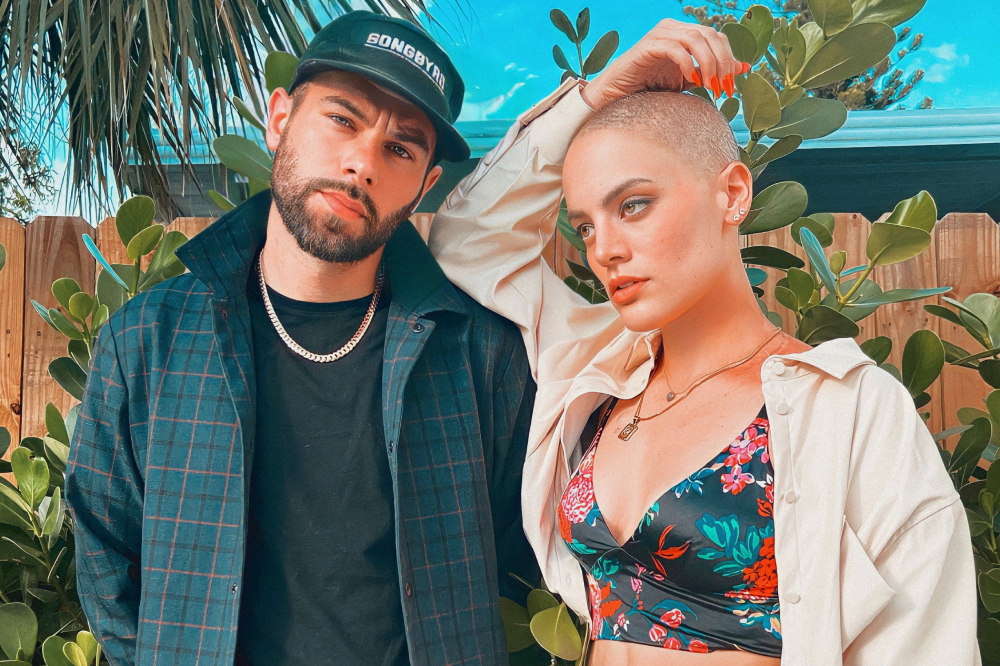 D.C.'s Hip Sonny + Cher: Meet Cat Janice + Footwerk
December 1, 2022 @ 12:00pm
Musicians Cat Janice, 29, and Kyle Higginbotham, 35, don't know what meet-cute is. At least that's what they say while turning toward one another, trading grins.
"Our whole thing is super weird," Higginbotham says.
He's not alone in feeling this. Everyone thinks the origins of their romantic relationship are "weird" or "unique." But in an effort to identify their own "meet-cute" moment, I ask the two to take turns recounting moments they remember from this romance.
"The real deal is that she hit me up to do this song, I did it, and then we got together to record a live version in a basement," Higginbotham says. "We sang it for like hours and hours and it's cool because if you watch it back, you can literally watch us have weird moment after weird moment of us falling in love with each other."
The happy couple tells me this while sitting in the rear of an airstream bus with what looks like the woods in the backdrop. I say "woods," because all I can make out via Zoom are the two artists, a thicket of trees and the innards of their temporary vehicle, complete with white walls and matching pillows.
The couple could not be dressed more differently, as Janice sports a preppy-looking, lime green polo and Higginbotham wears a black t-shirt, fitted cap and gold chain. They undoubtedly belonged to different cliques in high school, a thing Higgenbothm affectionately jokes about, saying several times that Janice experienced a "'Little House on the Prairie' life."
Despite a difference in aesthetics, the two share tremendous common ground. Both cut their teeth in the D.C. music scene; both grew up aspiring to craft songs with the hopes of large audiences; both have pivoted toward focusing on their personal sounds for coming projects; and finally, both are people worth listening to, whether performing together or separately.
"They're like hip Sonny and Cher," Songbyrd co-owner Joe Lapan says. "I guess Sonny and Cher were hip, too."
Homeschooled + Classically Trained
As a homeschooled kid originally growing up in Northern Virginia, Janice says music was the focus of her free time. And while the singer-songwriter has garnered praise and needle drops for her distinguishable indie-pop sound, as a youth she took lessons in piano and violin.
Janice credits her mother, a former DJ, for helping her identify how to establish a musical foundation that could aid in fostering a career. During her high school years, Janice participated in orchestras, plays and other live performances as a violinist. This is when she began entrenching herself in music theory. She wanted to better understand and engage with why songs worked compositionally.
"We were all classically trained," Janice says of her and her siblings. "As I got older, I got more into singing. It started in the shower and kind of turned into something I liked doing, so I began writing my own songs."
Because of the number of other homeschoolers in the DMV, Janice formed several bands and wrote a ton of "horrible songs."
"A lot of what I wrote about was like running through the fields," she says with a tinge of red stemming from some embarrassment. "I wrote a song one time about being pissed off at my mom because she wouldn't let me go to a party. That was the start of my angsty emo-ness."
Janice inevitably grew out of the "f–k you mom" and "teenage breakup" lyrics, and put out an EP in 2014, which she also hated.
"It has since been taken down," Janice says with a mischievous look. "It's pretty much just me and piano, but that EP is how Austin Bello found me."
Bello, perhaps best known as a member of Forever the Sickest Kids, agreed to produce music with Janice, a creative partnership that endures today.
"He helped me create a better sound," Janice says, specifically referring to her 2015 EP "Fire." "That was very Southern rock, and it's edgier with more personal songs. It really helped me take off in the D.C. area even though my sound is a lot different."
Radical, Rebellious + English
Higginbotham began his own journey through the local D.C. music scene when he moved to the District from England at age 13. Chubby with an accent, Higginbotham said he was made fun of often. When you combine the mindset of a literal foreign outcast with the raucous punk and burgeoning hip-hop stylings produced in the city during the late '90s and early '00s, let's just say it makes sense Higginbotham got into trouble, changed high school five times (yes, more than one per year) and gravitated toward more aggressive music.
"I came here and I thought it was gonna be like 'Saved by the Bell,' but it wasn't because kids are f–king mean," he says. "My dad was super into punk and my mom was a crazy Motown lady, and I was a crazy rebellious wild kid. I found underground rap pretty much as soon as I moved here."
Upon graduating from high school, Higginbotham aspired to be a hip-hop producer and rapper. But because college tuition is more affordable in England for English citizens, he applied and was accepted into Paul McCartney's Liverpool Institute of Performing Arts at age 17.
"It was dope because they have world-class recording studios inside the college and at this point, I'm just a wild teenager into rap," he says.
Back in England, Higginbotham began DJing and helped more established artists with equipment, set-up and other various parts of live performance. During his schooling, he formed a band in a scenario that can only be described as an amateur, classroom setting, non-televised version of Diddy's once-famous "Making the Band" TV show.
"It was strange to me that they let me into the school at all," he admits. "All I did was make samples, but I think really they wanted me there for diversity's sake. In the first semester, they put me in a band, and I had to learn how to play drums and make music with complete strangers from all over Europe. We just mashed up a bunch of stuff. That paved the way for Footwerk and mixing different genres."
Following the experience, he moved to New York in an attempt at making it big but failed to stay focused while partying in the Big Apple. In 2009, he returned to D.C. and embarked on a journey to achieve sobriety and in 2011 founded Footwerk, an outfit where he now harnesses all his influences into a moody, melodic hip-hop dynamic.
Yesteryear + Tomorrow
After the giggle-filled, googly-eyed basement recording, Janice and Higginbotham officially began dating at the backend of August 2021. Because of Higgenbotham's sobriety and Janice's proclivity toward what he described as "weird outdoor adventures," the two shared some interesting dates.
"We rode motorcycles in the woods at like 2 a.m. one night," Higginbotham says. "I remember asking myself, 'What planet is this girl from?'"
"I wrote a song about it, too," Janice adds. "That little summer moment, our little moment."
Despite the immediate good vibes, their relationship faced a colossal challenge about six months in when Janice, who's also a mother of one, was diagnosed with a rare form of cancer known as sarcoma. Despite her worry to disclose the severity of the looming battle to Higginbotham, he resigned to support her as best he could.
"We kind of fell in love and then six months later I'm being diagnosed with this incredibly terrifying thing," Janice says. "I was terrified to tell him. It changed everything for us, which I think was exciting because we had plans for music, for life, and then this cancer diagnosis threw things up in the air and now we didn't really have a plan."
"Just level the ship," he says.
As of print, Janice says her latest scan "came back clear," a culmination of a grueling treatment plan that most recently included a six-week round of radiation therapy in New York. She has two rounds of chemotherapy left and plans to be done with treatment by Christmas.
"To be honest, I don't believe it," Janice says. "I'm kind of in shock. I'm very cautious about it. For me, I'm like: 'Alright, if this comes back, I have this much time in between to really go at it, live my life and have a great time.'"
Throughout the medical journey and the unavoidable emotional tax cancer takes on a person's mental health, Janice developed catharsis in the artistic process of playing, recording and collaborating.
"For me, watching her go through it, everything in your life comes to a screeching halt," Higgenbotham says. "But what's cool about that is you kind of get a blank canvas after it all, and you can decide what you want to put back in."
One realization both came to in conquering this ordeal is the emphasis on their voice. No, voice doesn't mean the sound of their singing in this context, but rather the emotional throughlines their respective music carries.
Each of them have grinded regional tours — playing four shows in five days — or carefully crafted songs with the intent to please an audience. And while yes, every artist balances the needs and desires of external forces, Janice and Higginbotham share a certain clarity in how they want to approach their music going forward.
Janice plans to release her first full-length record in the first few months of 2023 and Footwerk, in collaboration with other various artists, plans to release a special vinyl at the top of the year.
Aside from release dates and coming shows, when Janice and Higginbotham are together, music will remain at the forefront of their to-dos. It doesn't matter whether they're collaborating on a song or not, as the two share a constant curiosity for instrumentation, songwriting and a drive to create with newfound purpose. Higginbotham even reached back in the airstream to reveal a little keyboard the two were toying around with before the interview.
"Over the next couple of years, we have no idea what's about to happen," Janice says. "All my plans that I've had for the last few years have completely changed. My outlook on life has completely changed. You just don't know what's going to happen to you in life, so I'm just working on music."
Undoubtedly, they'll be together — D.C.'s own Sonny and Cher, but more hip.
Before saying goodbyes and signing off Zoom, Janice looks at Higginbotham and says softly, "I don't know what I would have done without you, to be completely honest. I think that's the first time I've said that out loud."
For more information on Cat Janice, follow her on Instagram @cat.janice and visit her website catjanicemusic.com. Learn more about Kyle Higgenbotham and Footwerk @footwerkmusic and footwerkmusic.com.
Enjoy this piece? Consider becoming a member for access to our premium digital content. Support local journalism and 
start your membership today.