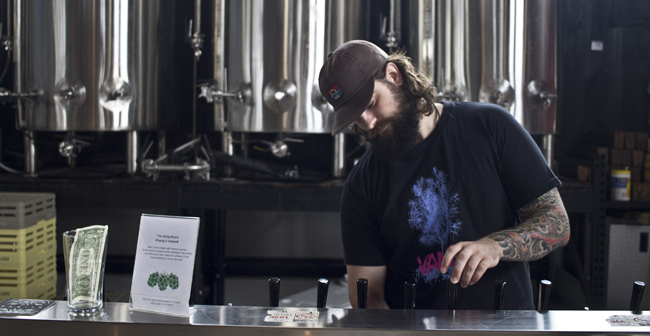 Norther Virginia Breweries Come In All Shapes and Sizes
July 29, 2017 @ 12:00am
In June, Virginia Gov. Terry McAuliffe announced that the state was home to 206 licensed breweries, moving ahead of neighboring North Carolina. According to the governor's office, the impact of the state's beer industry is an annual economic contribution of more than $9.3 billion.
"The beer industry is a significant economic driver that spans several sectors including manufacturing, agriculture and tourism," McAuliffe said in a recent statement. "I commend our Virginia breweries for their hard work in making world-class beer, and for playing a key role in building the new Virginia economy."
Not only does the state house a tremendous amount of breweries, the diversity between each only heightens the vast array of selections for consumers like you and me – folks who enjoy a brew birthed from passion.
For Virginia Craft Beer Month, we wanted to find spots in Northern Virginia with interesting stories to share regarding the opening and operating of their breweries. We landed on three vastly different locations: Vanish Farmwoods Brewery, Aslin Beer Co. and BadWolf Brewing Company.

The Closet Brewery: Aslin Beer Company in Herndon
Andrew Kelley and Kai Leszkowicz, the two operators of Aslin Beer Co., are actually brothers-in-law. The pair first crossed paths at a family outing, when Kelley was dating Leszkowicz's sister-in-law.
"The first time I met him was at Thanksgiving, and we made him sit next to the matriarch of the family," Leszkowicz says. "He dealt really well with that, and we sort of pumped him full of drinks to make it really awkward."
The idea for a brewery hit the two when their significant others gifted them beer kits at the same time. When Leszkowicz's wife was relocated to the DC area, the two connected and decided to scrape their money together, opening Aslin Beer Co. in September 2015. Their wives' maiden name hangs above the door.
"We just brewed a lot, and read a ton of books," Leszkowicz says. "We reached out to the American Brewers Guild and talked to them about what we should do."
Most breweries start with a 10-barrel production system, but due to limited resources, Aslin had to start even smaller. Instead, the tiny company began with a two-barrel system, double batching to keep up with the demand.
"It was selling in the taproom faster than we could make it," Leszkowicz says. "We kept investing money into it and growing the business."
Even though Aslin has remained at the same location in Herndon, it hasn't been an easy road to popularity. The beer is undeniably tasty, and creates demand, but their taproom is no longer functional, as they have chosen to avoid future conflicts with neighbors and closed it, filling it with equipment for churning out more product instead.
"All our stuff has been changing this past year," Leszkowicz says. "I loved interfacing with customers, and once you get beyond the superficial, you start to hear interesting stories and learn about their families. We had so much fun meeting these different people, and now I have to read about my brewery through social media."
Despite issues with the local bureaucracy, people are interested in Aslin Beer Co. People still wait in line to fill up their growlers or grab a six pack of the now famed New England-style IPAs the brewery is known for.
"We're trying to make Aslin Beer Co. an anchor business for the town of Herndon," Leszkowicz  continues. "Drew and I are dedicated to being in a small community. We've fought to stay here, and we're going to continue to do that."

Vanish into the Woods: Vanish Farmwoods Brewery in Leesburg
The website for Vanish Farmwoods Brewery is eerie, almost like a promotion for the next ridiculous slasher flick featuring a gnarled killer and unsuspecting teenagers. But once you drive on the dirt roads and arrive at the location, it's not like that at all – instead, it encompasses the feel of an outdoor lodge. There are barn-like structures, barbecue pits, outdoor picnic tables and of course, the brewhouse.
"We keep [the name] a little vague intentionally," says Tommy Skelly, director of marketing, sales and taproom operations. "The stuff I hate the most is, 'Oh, this beer is going to vanish,' because it's so corny. But at the root of the name is the fact that if Jonathan Staples didn't buy this farm, it would have vanished and become a neighborhood."
Staples, who owns James River Distillery in Richmond, happened upon the 53-acre space when he was looking for land to cultivate hops. Wanting to get fresh local hops for some of his spirits, Black Hops Farms was founded in 2014. After cultivating some plant life and a hops processing facility for local farms to use, Vanish Brewery was established on the farm in December 2015.
"I started here when it was just a shell of a building," Skelly says. "It's a great weird, because when I first came out here, this place was nothing. I talked to Jonathan for two hours, and he said he wanted to turn this place into the Disney World of beers. It's been crazy."
Though it's a bit of a trek to get there, Skelly says he and his team still feel very much included in the Virginia brewing community.
"[It's] overly welcoming, [and] such a great community," Skelly says. "In Loudoun County alone, there's like 25 breweries. The Loudoun County Brewers Association actually meets every month and goes over how we can lobby the local government, what to focus on and what things we should be aware of; it's fantastic."
Skelly mentions how the competitors are generally nice and willing to help you succeed, whether it be by offering advice or even raw materials in a pinch. The same sentiments were echoed by Aslin Beer Co. And like Aslin, Vanish doesn't distribute much, as most of the beer brewed is consumed or purchased onsite.
"Even when it's 100 degrees out, people sit out here," Skelly says. "Our goal is that no matter who walks in the door, we have something for them. We have 20 taps, and we always have fruit beers, sour beers and of course, multiple IPAs."

Beware the BadWolf's Growl(er): BadWolf Brewing Company in Manassas
The last of our stops on this NoVA brewery tour is BadWolf Brewing, cofounded by husband-and-wife team Jeremy and Sarah Meyers. Both Skelly and Leszkowicz gushed about the beers this Manassas-based outfit has produced since June 2013.
"It's been a rousing success since day one," Jeremy says. "I actually had to quit my day job in retail three days in."
He says his love for beer began during a study abroad trip to Germany when he was in high school. Back in Virginia, instead of waiting outside convenient stores for a passersby to supply a 24-pack of cheap cans, the future brewmaster was more interested in the craft variety. He even had his own homebrew kit before he was of age to frequent bars.
"There wasn't a lot of beer in this area to choose from," Jeremy continues. "I had a homebrew kit, and it was awful for a long time. I would bring all my bad beer to my friends' houses and they were thrilled, because they didn't have to wait around at a gas station for three hours. Eventually, they started to taste pretty good."
During an entrepreneurial class at George Mason University, Sarah hatched a business model for a brewery. After Sarah got an A+ in the class, the duo called the ABC to see what they could do to actually open a brewery in 2012.
"They told us the law was changing," she says. "We were going to wait for retirement to open a brewery, but then we dusted off the plan and we did it. It felt like – in our own minds at least – we were trailblazing a bit."
At the time, there weren't a ton of breweries in the area, so they didn't have many resources to pull from. Now after four years of operation, and the opening of a second space just down the road from their first, BadWolf is a mainstay of the local brewery scene.
Jeremy says, "We're not that old or experienced, but a lot of people come to us and say, 'Hey, we're getting ready to start a brewery. Can we talk to you?' We're not experts; we're still learning as we go. I don't have any formal brewing education at all. Sarah has formal business education, but beyond that, all we have is what we've gone through at this point. We give the best advice we can."
He says the brewery doesn't really have a specialty, which is something a lot of breweries say upon first ask, but eventually he relents and says that right now, sour beers are a focal point for them.
"I don't think it's going to stay that way for a long time though," he says. "It's all about what our customers think and want. As far as specialty goes, we like to experiment with a ton of different stuff. We'll try anything once, and if it goes miserably, we might try it again."
After spending time with the creative minds behind BadWolf, as well as the other two spots, the Virginia craft brewery scene really does seem like a family. Sure, they compete for patrons and awards, but the camaraderie is there, as is the respect for someone on a similar journey as you.
"We know owners and we know brewers, and it's truly a community," Sarah says. "When sh-t hits the fan, there's always someone you can count on to help you out."
For more information about releases and events, visit the breweries' respective websites.
---
 Aslin Beer Company: 257 Sunset Park Dr. Herndon, VA; www.aslinbeer.com
BadWolf Brewing Company: 9776 Center St. and 8420 Kao Cir. Manassas, VA; www.badwolfbrewingcompany.com
Vanish Farmwoods Brewery: 42245 Black Hops Ln. Leesburg, VA; www.vanishbeer.com