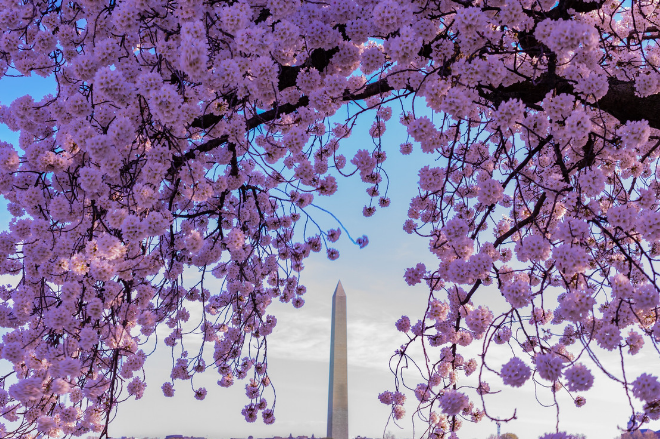 Making the Most of DC: Tours with Perks
August 5, 2019 @ 12:00am
There is never going to be a shortage of museums and tours in the Nation's Capital, plus they're incredibly easy to find. There are, however, plenty of museum and city tour offerings that come with an extra perk whether it's a flight of beer, a concert, brunch, or a free koozie. 
For those of you who love a freebie and getting value for your money, these are the local D.C. gatherings you need to add to your bucket list whether you want to switch your weekend activities up or have an interesting date night. 
Carpe DC Food Tours
Carpe DC Food Tours hosts street art neighborhood tours that include local coffee and breakfast. The U Street corridor tour offers a colorful walk through the neighborhood formerly known as "Black Broadway" where visitors can see various murals and learn about how the area has evolved over the years. 
#FrayLifeTip: I
f you're looking for the perfect Instagram shot, this tour provides plenty of opportunities. 
Heurich House Museum
While most tours at the Heurich House Museum are free of charge, you can opt to sign up for one of their Brewmaster Tours. The Brewmaster Tour is an hour-long tour and beer tasting event where you can tour the home of Christian Heurich, who ran Washington's longest-operating brewing in history, Chr. Heurich Brewing Co.
While touring the "Brewmaster's Castle" with a knowledgeable docent, you get to enjoy a flight of three local craft beers. 
#FrayLifeTip:
Brewmaster Tour dates vary by month, so be sure to check their
website
for exact dates and times to book your tour.
O Street Mansion
The O Street Mansion hosts a slew of tours that include treasure hunts, champagne, magic shows, high tea, or even brunch. They also host various themed tours throughout the year.
You can take a self-guided tour with champagne in hand for $40, or for $45 you can enjoy a continental breakfast and engage in a talk to learn the history and philosophy of the mansion. After breakfast, you can take a self-guided tour of the mansion and search for secret rooms and hidden doors.
Nat Geo Nights at the National Geographic Museum
On every third Thursday of the month, the National Geographic Museum hosts "Nat Geo Nights," a happy hour in the museum where you can partake in themed drink tastings, small bites, and trivia. The evening includes music and talks from National Geographic Explorers.
The Phillips Collection's Phillips After 5
The Phillips Collection in Dupont Circle offers free admission to view their permanent collections every Tuesday through Friday. Open to the public since 1921, the Phillips Collection includes works by Rothko, Renoir, Georgia O'Keefe, and Van Gogh, to name a few.
On the first Thursday of every month, the museum hosts Phillips after 5, a lively mix of food, drinks, art, entertainment, and live music. 
#FrayLifeTip:
Advance ticket purchase is recommended, as this is a popular event.
National Gallery of Art Sculpture Garden, "Jazz in the Garden"
Every summer on Friday evenings from 5 p.m. to 8:30 p.m., visitors can come to the Sculpture Garden and enjoy a free outdoor jazz concert. Arrive early to secure a good picnic spot and bring a blanket. If you forget to bring snacks, there are food and drink options sold at stands throughout the garden (including pitchers of sangria!). 
#FrayLifeTip:
Check the National Gallery of Art
website
for a complete list of bands hitting up the garden this summer.
Show us your favorite sights to see in the district using #FrayLife and #DcFray!
Check out 24 of the coolest things to do in DC this August!
[parallelogram text="GET OUR WEEKLY EMAIL" url="https://dcfray.com/fraylife-email-signup/" color="blue" style="rectangle"]