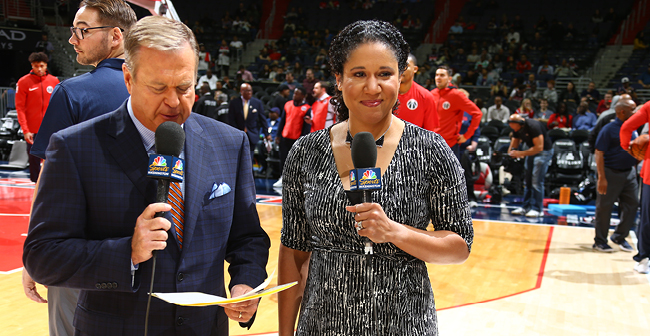 Game Changer: Wizards Analyst Kara Lawson
December 2, 2017 @ 12:00am
If you've tuned into a Wizards game this season on NBC Sports Washington, then you've already become acquainted with the voice of the team's new color analyst, Kara Lawson. In the offseason, Lawson became the second woman to assume the role of primary television game analyst when she replaced the legendary Phil Chenier.
Before stepping behind the microphone, or wearing one, Lawson was a little girl hurling a kickball toward a rim in Alexandria, Virginia. In her teens, she became a worthy opponent of the men at her local rec center, and eventually traveled south to play college ball at the University of Tennessee for the late all-time great coach Pat Summitt.
During her days in the WNBA, Lawson moonlighted as a part time, in-studio analyst and sideline reporter for ESPN. Eventually the side gig turned into her primary career, making history along the way. At the quarter mark of the NBA season, we had a chance to chat with Lawson about the game of basketball and her life as a full-time hoop head.
On Tap: What motivated you to start broadcasting during your playing career?
Kara Lawson: I started broadcasting right after my rookie season in the WNBA, so this is my fifteenth year. It's rare that I'm so young in life, but have so much experience. I was sort of ready-made because I started while I was playing. A lot of current players, they can't do that because the calendar doesn't work. When I first started, I just did a few games here and there, and once ESPN got more serious and the money went up, I knew it was becoming more of a focus for me. I initially looked at it as a side gig, but I realized this was something I could do as a standalone career. Midway through my WNBA career, ESPN gave me more security, and that pushed me toward full-time.
OT: Who are some of the people in the industry that gave you memorable advice?
KL: One of the first people who helped me was Annie Meyers. She was the lead analyst in women's basketball, and she reached out to see if I had any questions. We've maintained correspondence through the years, and not even necessarily about basketball. I had dinner with Robin Roberts, and she had moved from Bristol to New York City for Good Morning America. Her presence was powerful, and for me being a female and a minority, especially 15 years ago, she gave me advice that was unique to me about what I would face in the industry.
OT: In 2007, you became the first woman to be a color analyst on a nationally televised NBA game. What's it like looking back on that?
KL: A lot of times as a woman, it kind of takes something just happening before you get an opportunity. I was supposed to do a game as a sideline reporter, and the analyst couldn't get into the city because of an ice storm. They called me during game day and told me I had to call the game. I wasn't thinking about anything – I just knew I needed to start preparing. Maybe that helped me because I didn't have time to process it and get nervous. Looking back, it's really cool, and it's awesome to be the first at something. Back then, it didn't even really get brought up. Now, you look at all these women who do it nationally, and it's very cool.
OT: Do you think the stigma of women doing broadcast work for professional sports has been lifted?
KL: Well, it's certainly more open than in the past, but [is it] as open as it should be? Probably not yet. I'm fortunate to work for ESPN, who is the most open to putting women in positions like that. I hope other networks will continue – or start – to give women more opportunities in those places where it's traditionally men, because if you look up and down [at] rosters for play by play and analysts, it's predominantly men. I think local and conference networks are getting better and better. Look at NBC Washington giving me the opportunity; I think local television is starting to catch on even quicker.
OT: Have you received any negative feedback from Wizards fans because you're a woman in your position?
KL: There's a subjectivity that we all carry; you might prefer one news anchor to another. I don't think I've had many ignorant interactions or messages, but there are definitely people who say, "It's not my cup of tea," and that's okay. That's never bothered me. That's not knocking my credibility. I'm from DC, people know me here, and know my story and background. I haven't had people say much, because they know I've been around the hoops scene here for more than 20 years.
OT: Have you accomplished all of your goals in broadcasting?
KL: I was able to check off [becoming] an analyst for an NBA team and [being] immersed in the league. I had two big ones: to call the women's Final Four, and I did that last spring, [and] in a matter of four or five months, I accomplished the other goal, which was to be an analyst for a team. It's pretty interesting and I think it's a good lesson, because it took me 14 years to achieve it. It's a good lesson of being patient and continuing to work. At some point, you have to be able to take advantage of your opportunity.
OT: When were you first introduced to the game of basketball?
KL: My dad introduced me to sports in general. I can remember [being] as young as three or four years old. I was allowed to dribble the ball in the house, downstairs in our basement. We had a park in our neighborhood, and I'd go over and play by myself. I used a Wonder Woman kickball, because I wasn't strong enough to shoot a regular basketball.
OT: When did you first realize you wanted to play professional basketball?
KL: In fifth grade, I got my first recruiting letter from the University of Virginia. That was my state school. It had a bunch of really good players, and they had been to the Final Four a bunch of times. I thought that would be something really cool – to go to college and play basketball on a scholarship. That's when I set the goal that that was what I wanted to do. I wanted to play in the NBA; I figured I was better than all the boys now, so why not be better than all of them down the road?
OT: Do you have a favorite moment on your basketball journey?
KL: It's hard to pick one because I've really enjoyed all of it – from playing in the DC rec centers to all the great friends I've kept up with from high school. Those were great times. Getting a chance to play for the legendary Pat Summitt at the University of Tennessee was the best of the best; my relationship with her was so valuable. I don't think I could have gone anywhere else to get [those] lessons from anyone. She was really the person who jump-started my career in television, and she thought it was important for me to be comfortable as a communicator. I [wouldn't be] doing what I'm doing now if she [hadn't] had me work on my communication skills when I was 18 years old.
Visit www.nba.com/wizards for more information on the Washington Wizards, and follow Kara Lawson on Twitter at @karalawson20.