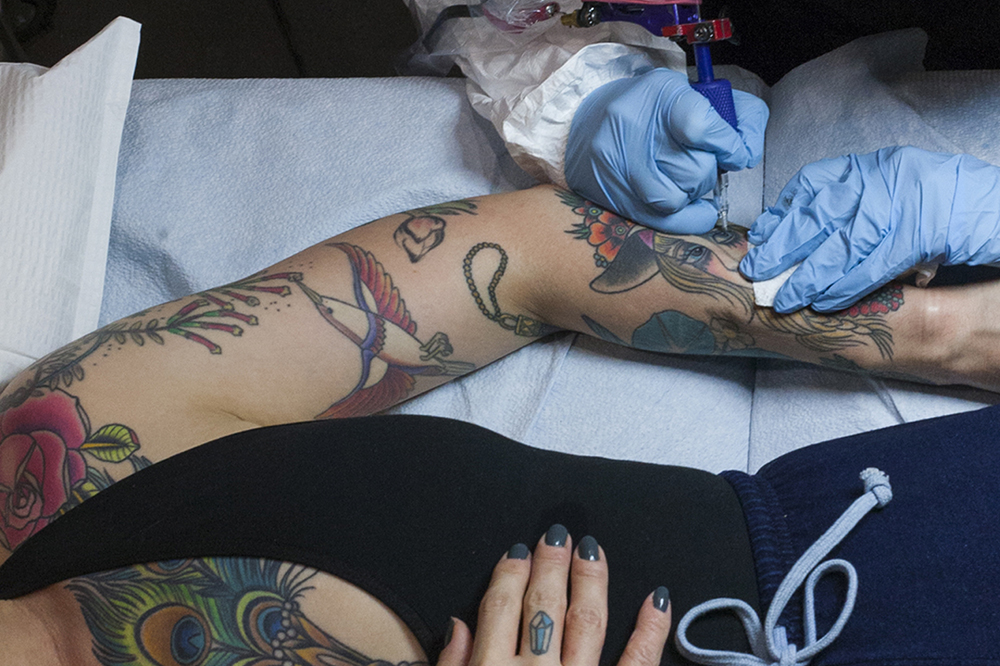 Tattoos During Covid: How D.C. Area Artists + Shops Are Meeting the Moment
March 1, 2021 @ 4:45pm
It's been a year since our lives were turned upside down by the pandemic. New words and ways of being have become part of our daily experience. From masking up to social distancing to quarantine bubbles, we're navigating uncharted territory every day.
Covid-19 also changed how we take care of ourselves, who we let into our space, and the things we do to our hair, nails and skin to feel good and express who we are. People still want tattoos, and tattoo artists – with some new precautions in place – are still putting incredible works of art on their clients. We spoke with area artists and shop owners to learn what's changed, and what's stayed the same, about getting tattooed.
The first stage of pandemic was a frightening time for many artists.
"If I had somehow known when the lockdown would end, I think I could've made better use of the time," says Eric Doyle, who co-owns Globe Electric Tattoo in Columbia Heights. "The only thing I could muster sustained focus for was completing applications for grants and loans."
Osei K, known in the DMV as the Freehand King, uses a special technique, tattooing directly on his clients without a stencil at his private studio in Takoma. He says the lockdown period was tough, but did have some unexpected benefits.
"I've never really had that much downtime since my early teens," Osei K notes. "Just being able to sit for a few months actually freed my mind of all that clutter and allowed me to focus on the non-work aspects of life a whole lot more."
Many artists say they've used the time to work on other creative projects, along with constantly refreshing the news for updates like everyone else.
The summer reopening period presented its own challenges. The pandemic hit right as Billy Stardust, owner of Electric Unicorn Tattoo Collective in Sterling, Virginia, was planning to open his own shop with his husband. They went ahead and signed a lease in April 2020.
"We said, 'Why not just do this now?'" Stardust recalls. "Then we can be ready for all the mandatory things we'll need to do [when we reopen]."
After months of preparation, Electric Unicorn opened in August of last year. The pandemic required some changes to the layout: Instead of a long bar up front, Stardust installed separate, stainless steel island tables that encourage people to keep their distance while looking over portfolios.
"It's like 'Full Metal Jacket.' This is my little island, there are many like it, but this one is mine."
One part of the tattoo experience that's definitely changed due to Covid? Walk-in tattoos. Stardust offers walk-ins, but is taking a new approach.
"Typically, someone walks in with three or four friends, and they hang out and watch the process. Now, we limit the number of guests and let them stay until we apply the stencil. Then we ask our lobby to be client-free unless you're actually getting a service."
Stardust notes it's important to clients to have that support, especially when they're getting tattooed for the first time.
"We don't want to take away your comfort or your sounding board, but we don't want to have 13 people in here cheering you on," he says.
Other shops have eliminated walk-ins for now.
"I do miss being more of a fast-paced, walk-in shop, but I don't see us going back to having packed waiting rooms anytime soon," says Sarah Fendlay, co-owner and tattooer at Electric Cat Scratch Tattoos & Piercings. We're running more like a private studio right now and just taking it week by week. What else can you really do after such an unexpectedly bonkers year?"
Even though most shops are using the private appointment model right now, Doyle says he doesn't see them replacing traditional shops anytime soon.
"Personally, I think it would be tragic if they ever did. There's something very special about an older but well-maintained, traditional, walk-in tattoo shop. There's no replicating the mystique of one of those places."
Something else that has changed during the pandemic are refunds and rescheduling policies. Artists are adapting to their clients' needs. Osei K says he typically doesn't offer refunds, but made an exception for one client in another industry hard hit by Covid: bars and restaurants.
"I have a client who is a bartender. He put down a deposit before I closed up [at the beginning of the pandemic]. I reached out and said, 'Hey, I know you're a bartender. You can rebook if you're not making money.'"
It's also good for protecting client and artist safety. Fendlay says Electric Cat Scratch has been flexible with their deposit and rescheduling policies "because we want people to feel comfortable moving their appointment if they've been exposed."
So, how can clients give back to their favorite artists as the pandemic drags on?
"As long as we remain able to operate safely, [people can] get tattooed," Doyle says. "Also, please be patient when scheduling. The protocols everyone need to follow to reduce risk are still relatively new, so don't be surprised if there are some hiccups or inconveniences along the way."
"If your artist isn't currently working, book an appointment for a later date," Osei K adds. "It'll help provide some security when things get back to normal."
Stardust says that along with keeping scheduled appointments, there are other creative ways to lend support to artists.
"Check out the other artwork they have for sale, or even commission original art from them. Even interacting with social media posts and resharing to your own personal pages can make a difference: the more exposure, the better."
For a lot of people, getting a tattoo isn't just about collecting a new piece. It's a way to connect, especially right now.
"[Clients] want what comes with a tattoo: camaraderie, friendship, all the humanity that you're missing," Stardust adds. "They know we'll make sure they're safe, and this is an appointment they can keep that makes them feel a little normal."
The pandemic has made it clear to many artists that the rewards of the tattooing process flow both ways.
"The main takeaway from this experience is a tremendous appreciation for our clients," Doyle notes. "Not only the debt of gratitude I owe them for supporting us financially, [but] it's [also] a privilege to interact with other people, have conversations and collaborate on projects."
At Electric Cat Scratch, Fendlay shares a similar sentiment.
"Tattooing has always been a form of claiming control of your body, but recently it's become more. For some of my clients, I'm the only person they have physically been in contact with in months. I am as grateful to spend time with them as they are with me."
Electric Cat Scratch Tattoos: 505 Florida Ave. NW, DC; www.ecstattoos.com // @tattoosbysarah + @ecstattoos
Electric Unicorn Tattoo Collective: 45665 West Church Rd. Suite 101, Sterling, VA; electricunicorntattoo.net // @billystardust + @electricunicorntattoo
Freehand King Studios: 7410 Georgia Ave. 2nd floor (Unit 3), NW, DC; www.freehandking.com // @freehandking (Note: Not currently booking new appointments)
Globe Electric Tattoo: 3821 14th St. Unit C, NW, DC; www.globetattoodc.com // @globe_electric + @eodoyle
Enjoy this piece? Consider becoming a member for access to our premium digital content. Support local journalism and start your membership today.