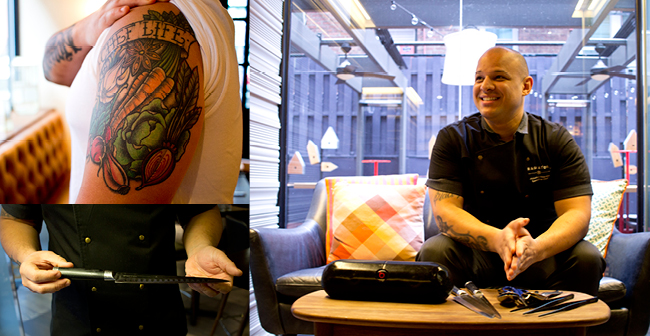 A Day in the Life with Chef Jonathan Dearden
January 21, 2017 @ 12:00am
Chef Jonathan Dearden thrives with knives behind Radiator's kitchen doors, prepping the kitchen to old school hip-hop and grazing on snacks scattered about his workspace. The former Ardeo + Bardeo Executive Chef leads the culinary charge at Kimpton's Radiator, a buzzworthy cocktail bar and restaurant that opened on 14th Street last summer. Dearden draws on Creole, Caribbean and pan-Asian influences for Radiator's menu, inspired by years of cooking at restaurants around the country and as far as Saint Lucia. On a quick break from work, cooking with his son and doing CrossFit, the tatted chef caught up with On Tap for the debut of our "A Day in the Life" column.
On Tap: How did you get into the food business?
Jonathan Dearden: My father tended bar at a restaurant in Alexandria, and when [my twin brother and I] were 13 or 14, he brought us into the restaurant. We would help prep and wash dishes, and it kept us busy on the weekends. It eventually transcended into a love of food and culture. In the restaurant, everything was made from scratch, so we learned how to make fresh soup, chicken wings and chicken fingers. It wasn't anything glamorous, but it was exciting.
OT: What's the first meal you remember?
JD: It's funny, because I've traveled around. One of the most memorable meals is going to Clyde's for Thanksgiving. I would always get the big turkey leg. I always wondered, "How could they cook so many turkey legs? How could they feed so many people?" Kids usually get slim pickings, but there I got a leg all to myself.
OT: How'd you get into tattoos?
JD: Yeah, tats are awesome. I have 12 tattoos, and most of them are culinary-based. I have a "chef life" one. And I have a few on my back, and a couple on my chest. I'm already working on my sleeve [laughs].
OT: You often cook with your kid. What's that like?
JD: The most important thing is the entertainment value of it. As a chef, I used to be strict in the kitchen and very aggressive, but as soon as my son was born I began to approach things differently. Now I'm much more patient. The goal when you're cooking with a child is to let them lead the way. The first time he cracked eggs, it was a disaster; he crushed the whole thing in his hand. His specialty is cakes. He can take the whole thing out of the box and decorate it.
OT: What kind of movies do you enjoy?
JD: I love action films. The best movie I saw in 2016 was Straight Outta Compton, and my wife didn't know any of those artists, so I was sort of explaining who Dr. Dre and Snoop Dogg [are]. I go to the AMC Hoffman the most.
OT: You played football and basketball in high school. Do you still follow sports?
JD: Of course. My father is a Cowboys fan and my stepfather is a Redskins fan. Thanksgiving was particularly interesting this year, because I was getting group texts on one side, and group texts on the other. I'm truly a diehard Redskin fan, but for some reason, when the Cowboys and Redskins play, I sort of lean toward the Cowboys. It's very weird. After Washington missed the playoffs, my Facebook feed was a little aggressive.
OT: Has an athlete ever come to you for a specific diet, or meal plan?
JD: Yeah, I've dealt with athletes a few times. It's very important to understand that part of nutrition. Though I've never been approached to construct a regimen, we've served athletes here, and I've catered for celebrities and athletes in the past. Strict foods aren't fun to cook at first, but my mom is a vegetarian, so I experienced what that's like for someone who chooses to eat that way. I look at it more as a challenge than a letdown. I think more people know what they're eating now, and you've got to be on your P's and Q's.
OT: What's your favorite drink/food combination?
JD: Chicken and beer. Straightforward. Chi-Mc is a place I go to frequently when I want that cheat meal. They do Korean fried chicken and beer. I've tried to duplicate the recipe, but I just can't get there. There's an ingredient or something I'm missing. I've gotten it close. I'm a crazy guy for chicken wings and draft beer.
OT: What's your favorite social drink right now?
JD: Blue Moon. I'll usually taste a local beer, but if I'm in the mood to drink a few, I'll stick with Blue Moon. I also love Port City Brewing and Devils Backbone. I'm no beer connoisseur, but I have elevated taste buds, so beverage people ask me to taste drinks all the time.
OT: What kind of music do you enjoy listening to when you're working?
JD: We always start off with 80s rock or pop, and eventually we segue into early hip-hop. Music is an important part of the kitchen, and I allow music up until we start service. I'm not into new-age rap, but my staff plays it sometimes.
OT: What's the most memorable concert you've been to?
JD: John Legend in 2012 or 2013. I saw him in Florida, and it was the first concert my wife and I went to. He even touched on Bob Marley, and it was great.
Radiator: 1430 Rhode Island Ave. NW, DC; 202-742-3150; www.radiatordc.com
---
All-Time Faves:
Food
Family
CrossFit
FaceTime
Sauté pan
Can't Live Without:
Chef utensils
Beats Pill+
Sonicare toothbrush
$600 chef knife
Phone
Kitchen Must-Haves:
Salt
Olive oil
Fresh herbs
Chicken
Lollipop kale or Brussels sprouts