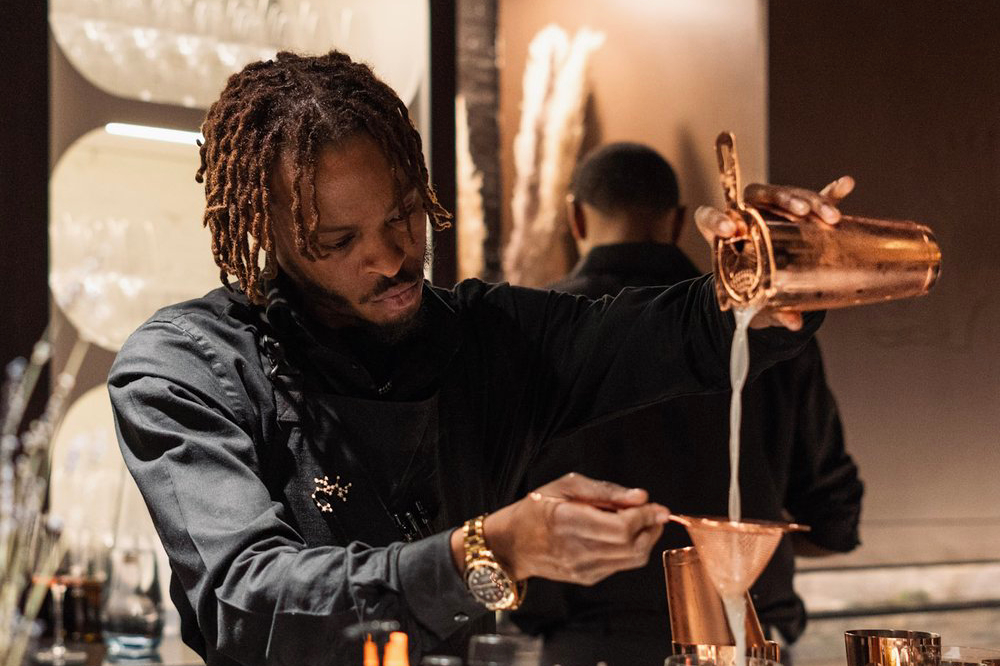 More Than a Restaurant: A Closer Look at D.C.'s Bronze
February 10, 2023 @ 12:00pm
Stepping into H Street's newest Afroluxury restaurant Bronze, you know right away that you're in the presence of something remarkable. Dim lights accentuate the earth tones and metallic accents of the minimal decor. Soft textures and rounded corners abound. The three-level establishment, formerly Smith Commons, is a story-led concept rich in language and wonder. 
The engine-like heart of the project lies in the fictional journey of Alonzo Bronze, a 1300s traveler in search of new cultures to learn from and share with. Eventually he, along with the people of Bronze and their mythic cranes, settle "on a lush and bountiful island in the modern-day Caribbean." This is the story that started it all, a history of Keem Hughley's creation.
When asked about Hughley's background in creative writing, he admits that prior to the pandemic, he had none.
"The slowing of the world created a lot of opportunity. I just saw the opportunity in it and took steps towards it."
Some of these steps included extensive reading, museum visits and taking online courses — such as science-fiction writer N.K Jemisin's Masterclass on narrative world-building — and a Disruptive Strategy course offered by Harvard. The objective of Hughley's research was to formulate the philosophy behind his new restaurant.
"There [were] times when I doubted myself, times when other people doubted me," he says. "I don't like to stifle creativity. My core job is to make sure we stay true to our languages."
Hughley provides, in his words, "the seeds," a few sentences that encapsulate his overall vision. His team, all Black creatives in their respective crafts, help those seeds grow.
It is with this starter material that executive chef Toya Henry, sommelier Nadine Brown, bar manager Al Thompson and Black-owned design firm Drummond Projects have created the space.
"My biggest talent is knowing that I have to work with somebody else to create what we need to achieve," Hughley says. "I'm creative, but I'm not a genius." 
When asked what part of bringing this concept to life has been the most emotional for him, he responds: "My father being part of the construction."
"He's been having a ball being the chief inspector of the project. He's from the South, from Alabama, [and] grew up during segregation. To see his son have something on H Street that he can put his hands on, that's been the most emotional part." 
He also shares that 35 of his relatives are coming up from the South this weekend to celebrate. And there is indeed so much to celebrate. Hughley and his team have created something that hasn't quite existed before, an answer to what Afrofuturism can look like in the hospitality space. They're now at the forefront of the Afroluxury movement. 
When asked about one thing he wants us to know about the project, he responds confidently:  "The expectation that you will walk in and see exactly who you are is an expectation you should remove. Afrofuturism is individually defined on you and who you are. You have to create the view you want to see. " 
Bronze is just one definition of Afrofuturism, that of Hughley and his team. But if done properly, it will be joined by the definitions of many other Black visionaries across the diaspora for years to come.
As light pours onto the table from a large corner window, Hughley pauses and then says, "We'll make a spectrum." 
Bronze is located at 1245 H St. NE and is open Monday – Saturday from 5 p.m. – 12 a.m. and Sundays from 5-10 p.m. bronzedc.com // @bronzehst
Enjoy this piece? Consider becoming a member for access to our premium digital content. Support local journalism and start your membership today.