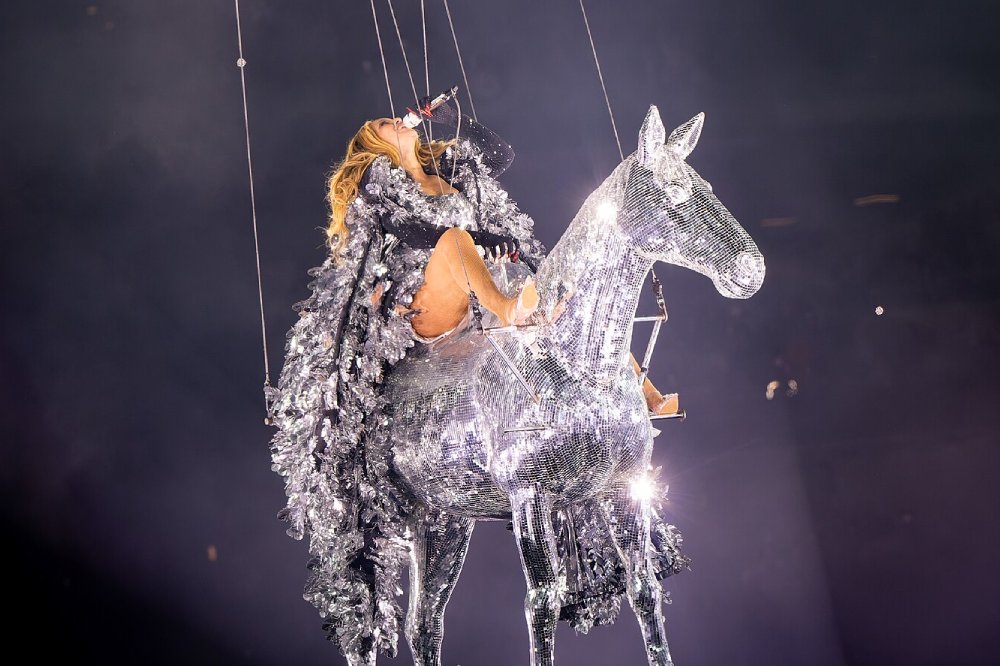 At the "Renaissance" Tour in D.C., Who's Best Dressed: Beyoncé or Her Fans?
August 4, 2023 @ 12:00pm
As concertgoers prepare for the superstar's August 5 show, fashion is of the highest priorities.
---
As punchy techno synth stabs intensify and percussive drum beats sharpen in "Pure/Honey," Beyoncé gives the listener temporary reprieve with a commandment: "It should cost a billion to look this good." 
The song, the 15th track on the global megastar's seventh studio album "Renaissance," is a hedonistic explosion of joy, sexiness and confidence. And ahead of Beyoncé's August 5 performance at FedEx Field, the BeyHive —the affectionate moniker for the singer's most devoted supporters— is channeling this energy into their outfits as they prepare for what many have described as the tour of the decade. 
Aderinsola Popoola plans on invoking the futuristic cowgirl look seen on Beyoncé's album cover. Popoola has two outfits planned for the day — one layers a silver-fringed white denim jacket over a silver corset and patent leather shorts, all paired with silver cowgirl boots and a white cowgirl hat curtained with dangling rhinestones. The other option is the exact same concept, but in metallic pink. 
"It's the vibe of being a Beyoncé fan," Popoola says. "For Beyoncé concerts, it's also a show for us, so we're also bonding amongst each other in the crowd, comparing each other's outfits [and] helping each other out."
Jessica Shotwell will channel a darker glittery mood with a black net rhinestone midi skirt, sequined top and black mules. For accessories, she'll adorn her arms and hands with "plenty of silver diamond bracelets and rings." Her friend encouraged her to create an outfit based off a song on Beyoncé's album, so she picked "Summer Renaissance."
"It's important for me to dress up for this concert because I just love how Beyoncé entered into this new era," she says. "She is invested in truly being creative, expressive and free from the binds of mainstream in her music and entertainment."
To Shotwell, "Renaissance" is not only the "album of the century" through which she has witnessed Beyoncé morph into a behemoth in the music industry; it's an obvious call to dance to the music and embrace the messages of freedom like those incanted on songs like "Break My Soul." 
"This album makes me free, love myself and just want to dance and forget about all of my worries," she says. 
Beyoncé also offers obeisance to the LGBTQIA+ community through ballroom culture inspirations threaded in song lyrics and queer-identifying collaborators featured in and/or producing songs. For Popoola, this angle provides an opportunity to create special moments with her LGBTQIA+-identifying friends. 
"I see it a lot because I have a lot of friends that are part of the LGBTQ community," Popoola says. "So, in a way it's my allyship to that community — hearing different songs that just resonate with them."
This type of connection is what underscores the spirit of "Renaissance." In fact, Beyoncé dedicated the album to her maternal uncle, Uncle Johnny, which is notated in her liner notes.
"A big thank you to my Uncle Johnny," she wrote. "He was my godmother and the first person to expose me to a lot of the music and culture that serve as inspiration for this album."
Show off your outfit at Beyoncé's concert on August 5 at FedEx Field in Landover, Maryland. Tickets start at $282 and can be purchased here. 
Want first access to select shows and performances around the city? Join the District Fray community to access free and discounted tickets. Become a member and support local journalism today.