We Want to Believe: UFOs, Aliens and the District
April 28, 2020 @ 4:17pm
In case you missed it, the Pentagon more or less confirmed the existence of UFOs yesterday. For believers like myself, their existence was no surprise, but the confirmation – and lack of fanfare around the news – is. In honor of the recognition our intergalactic friends are finally receiving, and to distract from the impending doom we're all feeling toward a majority of the news these days, here are some out of this world (sorry! can't help it!) things to investigate when you're sick of watching the Pentagon's "Tic Tac" video over and over. While some actually took place in the District (editor's note: allegedly), we're not limiting the list because as the nation's capital, our city will always play a major role in sightings, investigations and more. The truth is out there!
Mid-Century Aliens in Our Backyard
In 1952, our beloved hometown was the subject of tremendous attention after saucer-like crafts were spotted over a period of time that would eventually be known as "the Big Flap." The incident was covered up by the government (of course!) but many maintain these frequent flyers were the real deal.
Modern (Little Green) Men Make an Appearance

Unsurprisingly, that was not the last time our otherworldly friends decided to make a visit to the nation's capital. Tons of other, more recent sightings can be found with a quick Google search, but here are some noteworthy ones.
Seeing is Believing
Revisiting fictional depictions of alien phenomena is always a great option when you're tired of going down internet black holes about the real thing.
If you couldn't tell from my photos of choice throughout, I am of the opinion that there's never a bad time to rewatch The X-Files, currently available on Hulu and Amazon Prime. And because our beloved protagonists Mulder and Scully are FBI agents, expect plenty of DMV content.
When you're done binging, get back to reality by exploring the episodes that were based on real events here and here.
Aliens have captured the imagination of creators everywhere for centuries now. If you're looking for a movie about them, you could go with the obvious – E.T., the entire Alien franchise (Editor's recommendations: Independence Day, Star Wars, Paul) – but there are so many others about the fourth kind. Check out this list from Paste Magazine on the best alien movies ever for your next movie night…so tonight.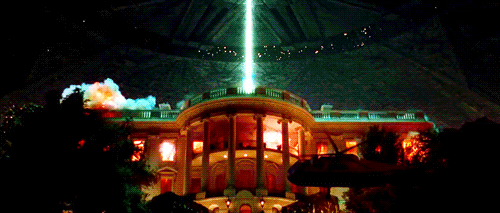 Bonus Round
If you're really getting into this whole UFO thing, why not join MUFON (the Mutual UFO Network)? According to the site, this network's mission is to "investigate UFO sightings, promote research around them, and spread awareness of UFO's potential impact on society." Sounds fun! Plus, they have some pretty sweet merch.
Enjoy this piece? Consider becoming a member for access to our premium digital content and to get a monthly print edition delivered to your door. Support local journalism and start your membership today.